Exports flagged elements according to the selected options - in a directory, selected by the user.
Achtung
This feature is included in Professional and C/S versions only!
The selected element options of the destination directory will be specified right here.
Right here you may configure some settings:
select only image elements

use primary category only

export only non-categorized image elements

export the subdirectories as well
Furthermore, the maximum number of exported files is expected (0 = unlimited)
Method :
Please select the directory, where the exported items are located and flag the appropriate image/DATA elements. Following this, the selected data can be exported - NOT ALL elements of the selected directory will be exported automatically.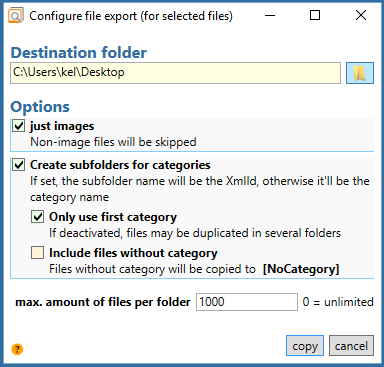 | | |
| --- | --- |
| Funktion | Beschreibung |
| Destination folder | Select destination folder |
| Options | Export options of elements |
| Copy | Export the flagged elements |