Search/Scan result: Categories
In this window, the hits will be assigned to categories. If you move the cursor over the coloured number, a window opens, where you get the information, in which category this element already exists and if a match between the scan and repo was found. A full view of the image element will open by clicking on the thumbnail.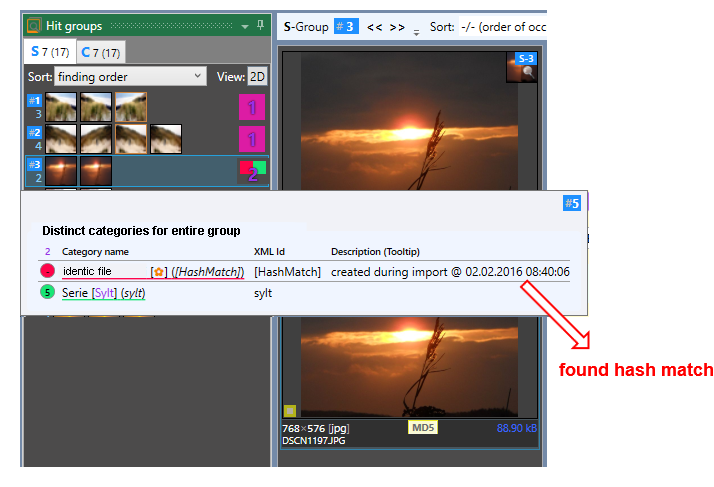 | | |
| --- | --- |
| Function | Description |
| S (Sequential group) | S-group: single image elements can be found in more than one group |
| C (Consolidated Group) | C-group: each image element is assigned to exactly one group |
| | Number of categories,the image element belongs to. |
| Thumbnails | Hit indication. By clicking -> larger preview with details about image elements |
When clicking individual thumbnails, the image elements appear in a larger view and there will be more options and information visible.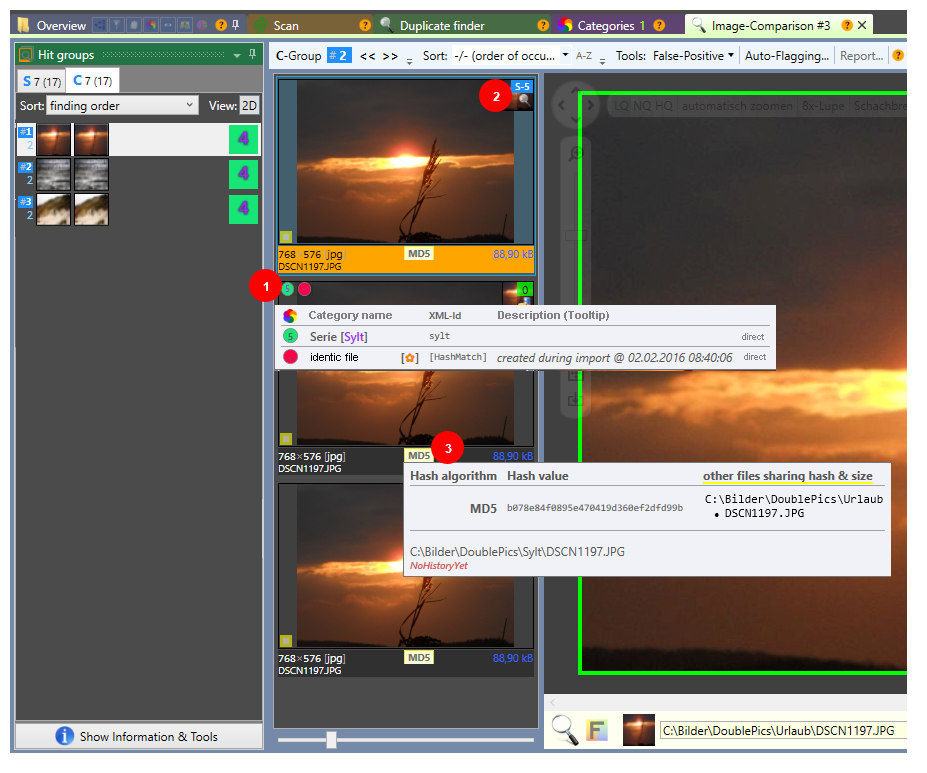 #

Function

Description

S/C

Sequentional/Consolidated group (see above)

Group

Current position of the hit indicator (moving to the next/previous group is possible by using the arrows)

Sort

Sorting according to various parameters (see also S/C -group)

False-Positive

False positive is a false hit, if image patterns are not the same or similar.

This may particularly happen, when search settings are too tolerant
See: False-Positive management

Auto-flagging

With the tool of Auto-flagging many flags can be set after sorting. All elements are provided with a label in one single step and can be processed much more quickly.

Report

The report is a visualized summary of found hits/matches. This graphical summary of a hit report provides various information about the hits .

Full structure copy

The full structure copy puts a copy of the search hits - with subdirectories, if desired - in the chosen folder on your local Hard Disk Drive.

1

Categories

Categories, where the image element you've been looking for, has been found

2

S-1

Information, in which group the image element is primary image.

3

Hash-Algorithm

Shows,

the used hash algorithmus

the hash code itself and

if elements with the same hash value or same image elements with other hash code are available at other positions.