With DoublePics you can - exactly like image elements - analyze multi-elements (movies, GIFs multipage TIF). The individual sequences of the multi-element are displayed like scenes - comparable like the chapters of a book ..

Why analyzing movies/multi-elements ?

In DoublePics, multi elements are movies, GIFs and multipage TIFs. This tool is very useful to detect subsequently added or removed scenes of a multi-element . After scanning these elements. a detail window opens, where you can see exactly, how they are composed, where they do match and if and where they were possibly cut.
Especially illegal footage that is mostly embedded in a "legal film", may be detected quickly and extremely effective. Similarly, this works for movies with shortened and so-called "Uncut" versions. Again, a comparison shows immediately which one is the cut or uncut version.

Movies/Multi-elements can be categorized and archived as well.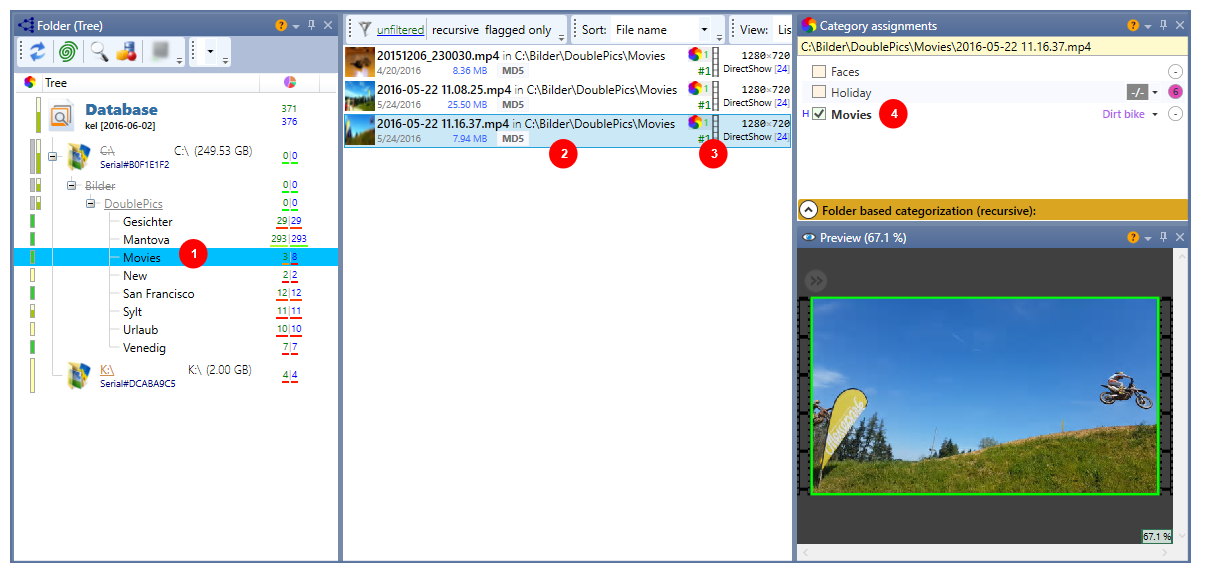 | | | |
| --- | --- | --- |
| # | Function | Description |
| 1 | Folder | Folder of the chosen multi-elements |
| 2 | Element list | Element list with preview |
| 3 | | When clicking on this icon the scene overview of the multi-element opens |
| 4 | Category value | Category value, which has been assigned to the multi-element |