In the main window, the available sub-areas (e.g., overview, read items, etc.) can be moved or docked as desired (see also).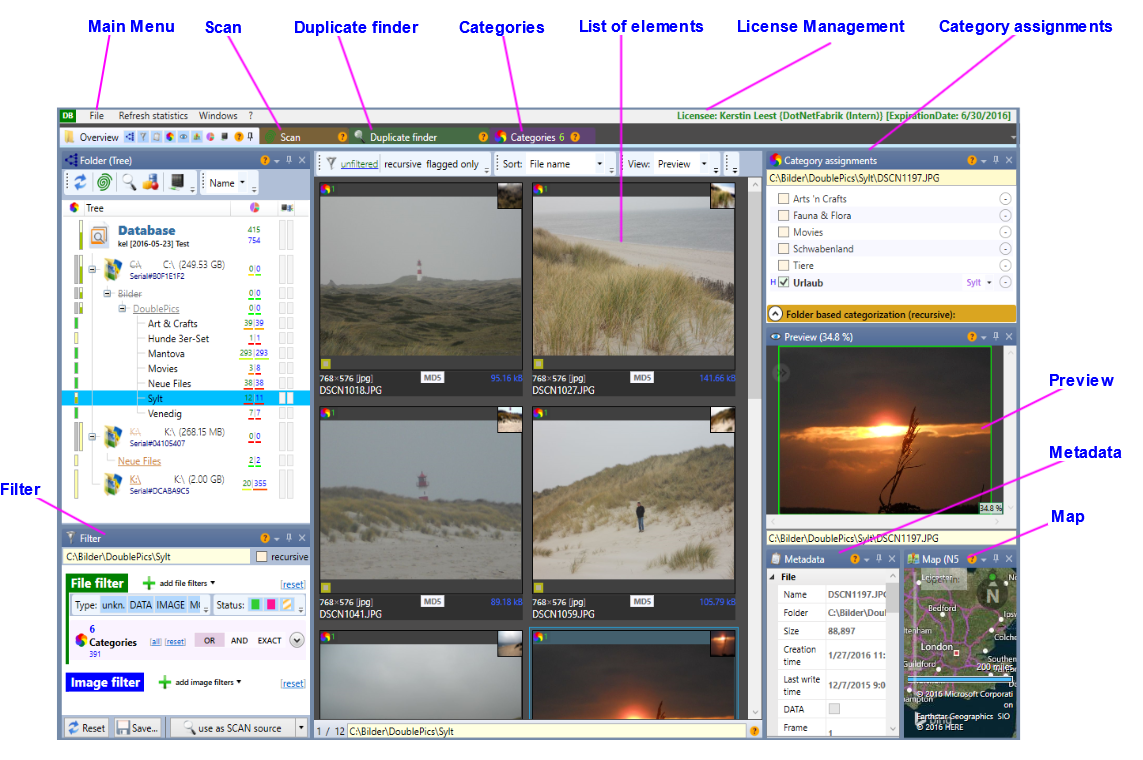 File
Create new database
Creates a completely new, blank DoublePics database.
Open existing database
Opens an existing DoublePics database and closes the opened one.
Recently used databases
Automatically maintained list of recently opened databases. Clicking on item will open the appropriate database.
Close database
Closes the currently open database.
Scan
Scans/Reads the highlighted / selected items into the database (See also Chapter members read).
Export database to DoublePics-server
Opens dialog "Export database to DoublePics-server"
Import CSV hash sets
Opens dialog"Import CSV hash sets"
Delete all flagged files
Deletes all flagged files from storage medium (HDD, USB,...)
Remove all flagged file elements
Removes all flagged file elements from database
Remove all flags
Removes all flags
Refresh Statistics
Refreshes the folder statistics of the currently loaded DoublePics database.
Windows
Overview
Returns to the main window
Database options and -tools
Hash tree storage (automatic backup) and server connection.
Hash-Management
Selection of hash algorithms.
Manage all server search jobs
List of all server search jobs and their delivered results.
Scan & Duplicate finder & Categories
A click will take you to this section directly.
Reset window layout to last stored state
Reset of the window layout to the settings that were saved at the last shutdown or at the start.
Reset window layout to factory defaults
Reset of the current window layout to the settings that were specified by DotNetFabrik.
The manual screenshots are based on this window layout.
SQL
Switches to SQL Debug window
Options
Various modification options, as
Changing the icon sizes (the scanned images)

various options for upcoming scan tasks

Automatic update check

Allow anonymous usage and performance statistics
?
Software wizard
Guides you through the basic functions of DoublePics.
Show context help buttons
Displaying the buttons

(direct forwarding to the appropriate help topic)
FAQ
Forwarding to the FAQs (Frequently Asked Questions)
Feedback
Opens the feedback form to contact DotNetFabrik directly.
Complete Changelog
New functions/features and bug fixes of the respective releases, changes to the previous release
Manually check for updates
Abfrage nach evtl. bereitliegenden Updates der DoublePics-Version
License managament
After the login you
may renew your update entitlement period

have access to your existing licenses

may create and use license activations

have access to your Hardware ID

can also open the contact form
About
Displays version and license information

Contact data DotNetFabrik

Operating System Information

Diag. (Release of data garbage, current drivers, etc)

EULA (End User License Agreement)

displays the required open source libraries (third-party software)